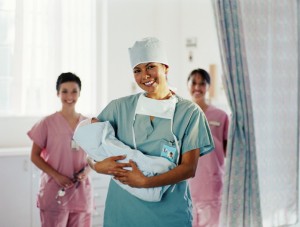 Colorado is considered one of the top biotech states in the country so it is no wonder that 13 of the top 50 private sector employers in Colorado are medical centers or hospitals.
Exempla St. Josephs in Denver is home to 5,000 employees, Poudre Valley Health Systems in Fort Collins houses 4,000 employees, Memorial Hospital for Children in Colorado Springs employs 3,500, and Memorial Hospital in Colorado Springs has with 2,800 employees. The other 9 hospitals that ranked within the top 50 private sector employers each have between 1,800 and 2,800 employees.
Colorado, and Denver in particular, has a nursing shortage that is more than twice the national average, which makes the state a top destination for travel nurses.  Median salaries for staff-level registered nurses in Denver and Aurora are around $67,000. In Colorado Springs and Fort Collins the median salaries for RN's are around $61,000.
Ten Largest Colorado Hospitals
Colorado Mental Health Institute
Exempla Lutheran Med Center
Presbyterian-St Luke's Medical Center
Memorial Hospital – Colorado Springs
Exempla Saint Joseph Hospital
Penrose-St Francis Health Services
Family Health West
Swedish Medical Center
Medical Center Of Aurora
University Of Colorado Hospital
Three largest cities in Colorado
Colorado Facts and Figures
2012 Unemployment Rate: 7.9%
Unemployment Rank: 33 of 50
2011 Per Capita Income: $44,088.00
Per Capita Income Rank: 15 of 50
2011 Cost of Living Index: 99.8
Cost of Living Rank: 30 of 50